Where Mortgage Rates are Heading
Posted by Lamont Orr on Wednesday, February 2, 2022 at 9:45 AM
By Lamont Orr / February 2, 2022
Comment
Curious About Mortgage Rates? They are Going Up.
Mortgage rates are on the rise. This means your payment will be higher than last week just because you waited to lock in a mortgage rate. If you get a pre approval letter from a lender he will lock in your mortgage rate so fluxations will not affect your purchase.
According to the latest survey, the average 30-year fixed-rate mortgage has risen from 3.22% at the start of the year to 3.55% as of last week. This is important to note because any increase in mortgage rates changes what a purchaser can afford. To give you an idea of how rising mortgage rates impact your purchasing power, see the table below:
How Can You Know Where Mortgage Rates Are Headed?
While it's always difficult to know exactly where mortgage rates will go, a great indicator of where they may head is by looking at the 50-year history of the 10-year treasury yield, and then following its path. Understanding the mechanics of the treasury yield isn't as important as knowing that there's a correlation between how it moves and how mortgage rates follow. Here's a graph showing that relationship over the last 50 years: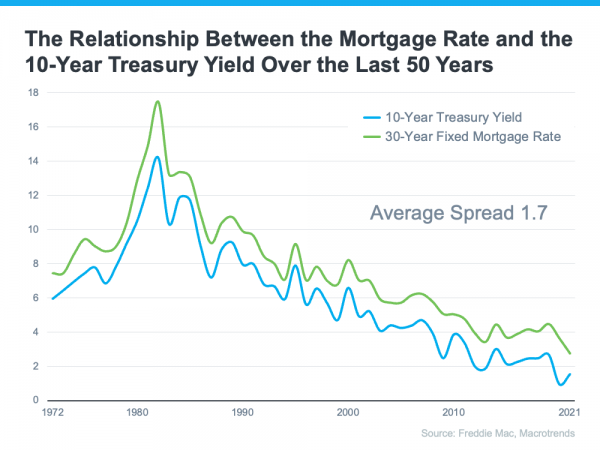 This correlation has continued into the new year. The treasury yield has started to climb, and that's driven rates up. As of last Thursday, the treasury yield was 1.81%. That's 1.74% below the mortgage rate reported the same day (3.55%) and is very close to the average spread we see between the two numbers (average spread is 1.7).The consensus was that experts project the treasury yield will climb to 2.84% by the end of 2024. Based on the 50-year history of following this yield, that would likely put mortgage rates at about 4.5% in three years.
As Mark Fleming, Chief Economist at First American, once said:
"You know, the fallacy of economic forecasting is don't ever try and forecast interest rates and or, more specifically, if you're a real estate economist mortgage rates, because you will always invariably be wrong."

Lamont "Ben" Orr - The Orr Team eXp Realty 720-425-3365